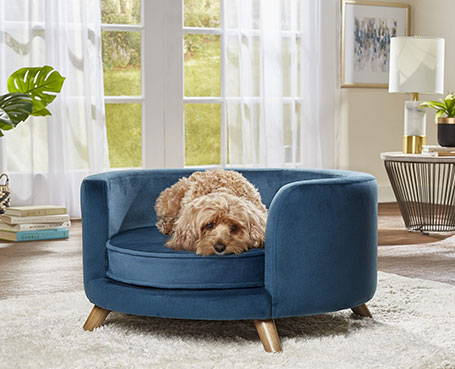 Inspired by the high quality craftsmanship of fine furniture, we're dedicated to providing the same level of comfort and style for the pets we love and adore. Our premium beds are designed and manufactured with the utmost attention to detail, function and durability - And our wide variety of elegant styles will complement the décor of any home. After all, our pets give us their unconditional love, give them something they'll love, in return.
Sleeping Styles
Dogs typically sleep in 3 different ways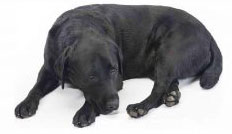 Curler Dogs
The nose to tail sleepers, who prefer this curled up, protective sleep style
If your dog is a Curler Dog, look for a sofa which has a more rounded or curved back shape, like one with our Sleep Comfort Contour, which fosters their natural instinct to feel protected while curling up in it to sleep.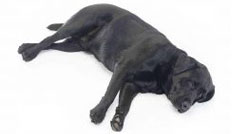 Stretcher Dogs
Pups who choose to stretch out on their bellies, backs or sides to sleep
For Stretcher Dogs who like to sprawl out while resting or sleeping, you will want to look for a sofa which has more length, across the front. Note the length of your pet when they are stretched out to choose the perfect sized sofa for them.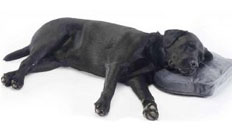 Leaner Dogs
Dogs who favor leaning their heads while sleeping on their sides
Many of our sofas are upholstered with low profile, extra cushioned arms, designed to offer a perfect place for those Leaner Dogs to rest their heads. Notice if your pet prefers leaning his head to see which of our sofas have just the right arm height for them to lean into comfortably.
Fabrication
Quality and comfort are built into every pet sofa we manufacture. It all starts with the foundation -- we use only furniture-grade wood and the finest construction methods. We have developed a unique cushioning system, creating a special blend of high-loft, milled foam and durable poly fill to ensure both comfort and long lasting performance. The inner cushion covers are made from a non-woven, heavy-weight material for added protection. And our finishing touches - the outer cushion covers and furniture detailing – are meticulously designed to complement the décor of any home. All beds are easy to clean and care for, and meet or exceed safety standards. See below for more details.
Outer cushion cover & surfaces
EHPET utilizes three primary substrate covers for all furniture products:

Ultra-Plush fabric - Soft, long hair, polyester, micro-velvet blend
Faux-suede fabric - Short, micro-fiber composition
Faux-leather fabric - Easy clean, semi-polyurethane material

All cushion covers are furniture-grade quality for long lasting durability
Removable cushion covers have been tested to be spot cleaned or machine washable, using cold water and delicate, tumble dry
Polyurethane covers have been tested and are within the safe standards as required for Phthalates
All wood and other surfaces have been tested and are lead free
Inner cushion cover
The inner cushion cover is a heavy weight, non-woven polyester blend and is designed for long lasting performance
Cushions, foam & fill
Our cushions are filled with comfort blend, milled foam and poly fill
The minimum fill weight is 11oz of high-loft milled foam
Specially selected from our exclusive factory, our comfort blend has proven to be more durable and longer lasting than pure poly fill
Where poly filled beds require baffles to secure the fill in place, our high-loft milled foam won't stray or separate after extended use
Closures
Enchanted Home Pet uses quality zippers on all cushions for snag-free and long lasting performance
Furniture foundation
All our furniture products use furniture-grade construction methods
Choice hard and soft woods provide a long lasting, durable frame foundation
Testing and Compliance
EHPET employs stringent testing standards as recommended by our testing facility
All our materials are tested to meet or exceed U.S. and the more stringent California Proposition 65 Standards
Polyurethane covers have been tested to be within the safe standards as required for Phthalates (DBP, DINP, BBP, DEHP, DNOP,DIDP, DnHP)
All surfaces have been tested to be lead free
The gel-core formulation is polyurethane based and has been tested to be non-toxic, lead free and free of heavy metals
All plywood and glued wood have been tested to meet California Proposition 65 Standard 93120 and are compliant for formaldehyde phase II requirements
All our foam and fill has been tested for compliance standards of California Proposition 65 which requires adherence to CA Technical Bulletin No. 117:2000 Section A Part I and Section D Part II for fire retardant performance and confirmation that the foam is free of Tris (1, -dichloro-2-propyl) phosphate (TDCPP)
Warranty
Our 1 year Limited Warranty covers products purchased through authorized Enchanted Home Pet retailers only.
Q: What is covered by the Enchanted Home Pet 1 yearLimited Warranty?
A: Manufacturer defects on products purchased through authorized retailers. Defects such as defective hardware or broken frames on receipt of delivery (5 business days) are covered
Q: What is not covered by the Enchanted Home Pet 1 Year Limited Warranty?
A: Wear and tear from pets. If your Enchanted Home Pet product is damaged in the course of normal wear and tear, you may not qualify for our warranty replacement. Products damaged while being used in an unintended way regardless of time of purchase are not covered by the limited warranty. Some examples are:
Damage from misuse or abuse from the pet including but not limited to scratches from nails, digging into sofa or ripping the sofa fabric
Chewing of the sofa and/or parts of the sofa including cushion, buttons & piping
Stains or damage from pet
Improper cleaning techniques
Q: How does the Enchanted Home Pet 1 Year Warranty work?
A: Contact us at [email protected]. Send us pictures showing the defect with proof of purchase and we'll take a look. Please allow 48 business hours for our team to respond. If the claim meets our guidelines, we will send you the proper replacement.
We are Committed to quality
Enchanted Home Pet prides itself in making superior quality products. The comfort of your pet is very important to us and we are here to help.
Please email us at [email protected] to get started.